Welcome to my picture gallery. I am Minna G. and photographing is my hobby.
FIN: Pidän luonnon kuvaamisesta kotikaupungissani, Imatralla. Aloitin harrastukseni joskus vuonna 2002, ja hankin ensimmäisen järjestelmäkamerani 2008. Ensimmäinen järkkäri oli Canon EOS 450D, jolla olen ottanut suurimman osan kuvistani (2008-2016). Päivitin kamerani Canon EOS 80D vuonna 2016 ja uuteen objektiiviin keväällä 2021. Lisäksi minulla on ollut joskus lainassa tuttavani laitteita.
EN: I like taking photos about nature and my home town. I live in South-East of Finland at Imatra. I started this hobby around 2002 and got my first system camera in 2008. My first system camera was Canon EOS 450D and I have taken most of my pictures with it (2008-2016). I updated my gear to Canon EOS 80D in late 2016 and bought a new lens in spring 2021. In addition sometimes I have used friends' gear to take photos.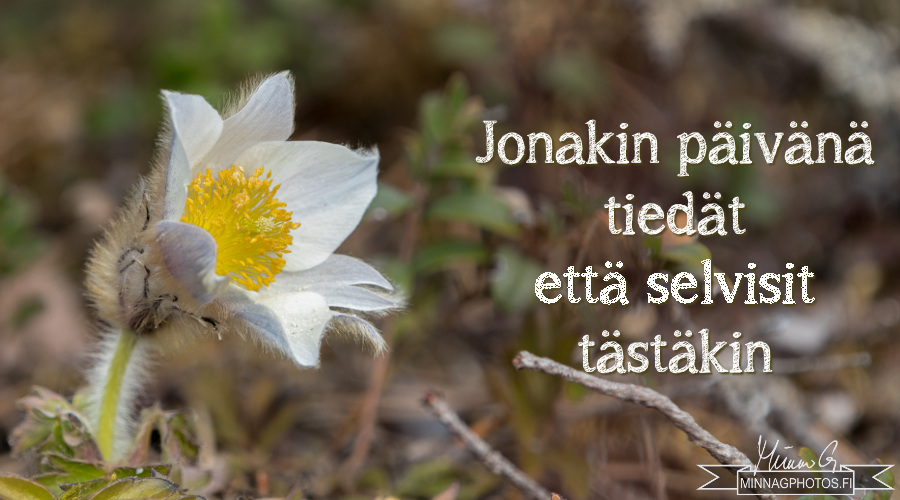 Näitä kuvia saa käyttää sellaisenaan vapaasti SOME:ssa. Kuvia ei saa muokata, eikä niistä saa poistaa Copyright-merkintää.
These pictures are free of use in social media. Editing and Copyright stamp removal are prohibited.
FIN: Tämä kuvagalleria on perustettu vuonna 2022. Jos olet kiinnostunut kuvieni julkaisusta missä tahansa mediassa, ota minuun rohkeasti yhteyttä ja sovitaan käyttötarkoituksesta ja muista ehdoista. Kuvien käyttö ilman erillistä lupaa on kielletty. Yhteydenotot: minna@minnagphotos.fi
Kaikista kuvista on olemassa originaalit RAW-versiot ja niitä on mahdollista saada julkaistuksi ilman Copyright-merkintää. Kuvia saa jakaa eri medioissa muokkaamattomina. Kouluesitelmät, koulutyöt, opiskelumateriaalit: pyydä lupa käyttöön. Olet myös tervetullut kysymään kuvistani. Kiitos sinulle ajastasi ja mahdollisesta lahjoituksestasi!
EN: This photo gallery is set up in 2022. If you are interested in publishing any of these photos anywhere in any media, please contact me with an
email message: minna@minnagphotos.fi
All photos are archived in original RAW versions and available to edit into different publishing format without copyright stamp. These photos are not free of use in any media, but you can share them as they are (unedited) in social media. Do not remove copyright stamp, please.
Toiminimi / Sole trader
FIN: Minulla on Y-tunnus ja pyöritän pienimuotoista yritystä. Kaikki rahaliikenne kulkee virallisten teiden kautta. Seuraavassa on yritykseni tiedot.
EN: I have small business that I run. Here is my business information.
Kannustus / Support
Voit tehdä lahjoituksen harrastukselleni klikkaamalla seuraavaa QR-koodia. Raha käytetään tämän sivuston ylläpitoon.
You can also donate money for my hobby by scanning next QR code.
Yritys / Business INFO
Yrityksen nimi / Business Name: Kizzas-netti
Home: Imatra, FInland
VAT / ALV: FI 19367582
Omistaja / My name: Minna Laamanen
Kuvien oikeudet / Copyright © Minna G. Photos
KUVAGALLERIAN AIHEALUEET – PICTURE GALLERY MAIN CATEGORIES
birthday fest funeral garden häät iso kukka juhannus may day mid summer fest party perenna perennial pink flower pioni pääsiäinen sarah bernhardt scented flower syntymäpäivä tuoksuva kukka valentines day vappu weddings ystävänpäivä